Mentors from Living Conditions Improving Committee Help Immigrant Brides in Farming Families
Createdd
2018-10-15
Hit
253
Contents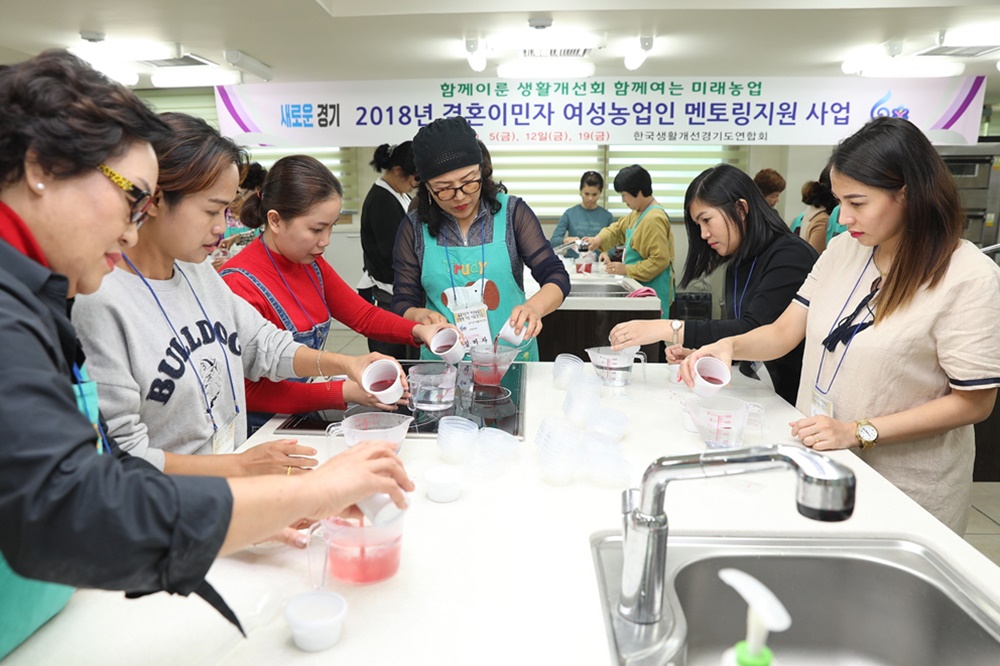 The Gyeonggi-do Agricultural Research and Extension Services is offering three educational sessions in its auditorium on October 5, 12 and 19. The sessions are designed to assist immigrant brides settle into their new farming families, providing lectures on everyday etiquette, food culture, fruit selection in Gyeonggi Province, and more.
Thirty immigrant brides living in the province are participating in these sessions, which are led by ten mentors from Gyeonggi Province's Living Conditions Improving Committee. The mentors instruct the participants on necessary farming techniques, everyday etiquette, commonplace technologies and other skills required when living on a farm. Other programs have also been prepared to add more fun to the sessions, such as Korean cooking classes on how to make omija marmalade, red pepper paste, songpyeon and more.
Initially established in 1958 as the Live Improvement Club, Gyeonggi Province's Living Conditions Improving Committee is comprised of a group of farming women. The committee changed its name to the current title in 2010, and currently has 10,953 active members in Gyeonggi Province.
Choi Mi-yong, Director of Technology Dissemination at the Gyeonggi-do Agricultural Research and Extension Services, stated, "These educational sessions were created to strengthen immigrant brides' connections to local farming society, as well as to help them adapt smoothly to existing society." Choi added, "The Living Conditions Improving Committee will do its best to provide practical assistance as mentors, even after this event."