Gyeonggi's Market Pioneering Team Makes Breakthroughs in UK and French Markets
Createdd
2018-09-27
Hit
215
Contents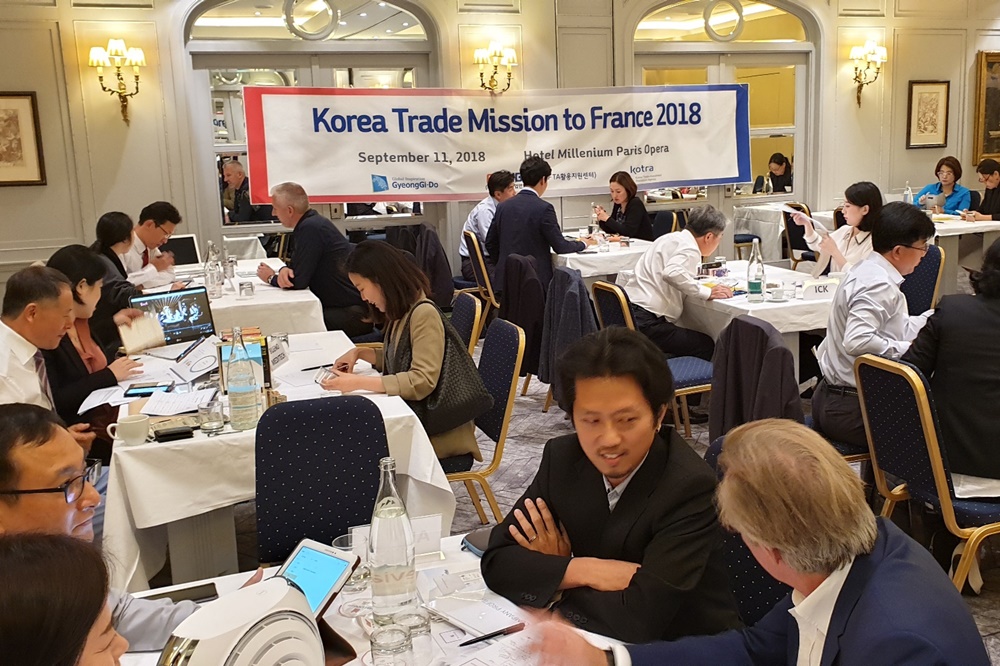 Gyeonggi's market-pioneering delegation realized significant accomplishments in Western European markets through FTAs.
Gyeonggi Province and the Gyeonggi FTA Business Center announced that they dispatched the Western European Market Pioneering Team to France and the UK for 7 days from September 10 to 16, securing export contracts worth a total of USD 3.29 million through 95 business meetings.
The delegation, consisting of 10 representatives of prospective SMEs in the province, held export business meetings with local buyers in Paris, France, on September 11 and in London, United Kingdom, on September 13.
To facilitate export meetings, Gyeonggi Province provided services such as one-on-one meeting arrangements with buyers, local market surveys, one-on-one interpretation, and support for meeting space rental.
Through the meetings, the participating companies introduced various products such as a flame detector, sushi laver, a local exhaust system, smartphone protective film, a gas leak detector, natural cosmetics, and more, and received favorable responses from buyers.
This resulted in contracts worth a total of USD 2.6 million in Paris and USD 690,000 in London.
Jinheung Food Company from Gwangju gained the confidence of local buyers with its numerous certifications including HACCP, ISO 22000, Kosher, and Halal. It held a meeting with Foodex, one of the largest food ingredient companies in Paris, and discussed a USD 200,000 export contract.
"We are expecting a USD 200,000 initial contract within this year with the buyer, with whom we have wanted to engage for the past decade," said CEO Ju Yang-yun of Jinheung Food Company.
Bueno Meditech from Seongnam negotiated a USD 1 million stem cell cosmetics contract with MoshiMoshi, a cosmetics distributor with channels throughout France, a leading country in cosmetics, and signed an MOU for the marketing of its products in that country.
Mirico from Ansan met Omnitron, a company with which it has had lengthy negotiations, and actively promoted its UK and CE certifications in gas and fire detection to conclude an initial OEM contract worth USD 75,000, committing to supply its products to the UK market by the end of this year. With this contract, the company anticipates yearly exports valued at USD 150,000.
Song Yong-uk, the Director of the International Trade Division of Gyeonggi Province, said, "Amidst the uncertainties of Brexit (the UK's withdrawal from the EU) negotiations and the US-China trade war, foreign trade conditions are growing increasingly difficult. I hope that the achievements of the European Market Pioneering Team can serve as breakthroughs for the future Western European market advancement of SMEs in Gyeonggi Province."