Summer vacation spots in Gyeonggi Province: Great mountains and great water, valleys and waterfalls in Gyeonggi Province
Createdd
2016-07-28
Hit
535
Contents
If you're thinking long and hard about where to go this summer, we have a few suggestions!
Today we introduce you to travel destinations in Gyeonggi Province for those who want to come visit Gyeonggi Province where the mountains are magnificent and waters are clear.
Have fun in the water in an all-natural environment~ Which valleys in Gyeonggi Province to visit?
Yangpyeong Jungwon Valley
With small huts and built-in wooden decks along the way, Jungwon Valley is a cool and tidy place. For about ten minutes while you climb up Jungwon Waterfall, there's a small pool formed by water flowing down from the valley, so you can have fun in the water safely.
Cooking is prohibited in the valley, so it's best to bring a packed lunch. If you need to cook food, you can do it at the cooking zone at the valley's entrance.
Nearby attractions: Yongmunsa Temple, Yongmunsan Mountain Tourism Complex, Yongmun 5-day market, etc.
Address: 706, Jungwon-ri, Yongmun-myeon, Yangpyeong-gun, Gyeonggi Province
Pocheon Baegun Valley
Along with Baegunsan Mountain, Baegun Valley is a well-known destination. I'm sure plenty of you have heard of it! Baegun Valley is well equipped with amenities such as parasols, shade canopies, camps sites, and foot-volleyball courts. Cooking is prohibited but you can eat at the camping area.
Nearby attractions: Sanjeong Lake, Pyunggang Botanical Garden, and other arboretums
Address: 236-24, Pohwa-ro, Idong-myeon, Pocheon-si, Gyeonggi Province
Gapyeong Yongchu Valley
If you're planning to go trail hunting on Yeoninsan Mountain, you can't miss out on this destination!
The destination is Yongchu Valley. The valley also features 5m-tall Yongchu Waterfall. Yongchu Valley is also known as 'Yongchu Gugok' since the scenery looks as if a dragon carved out a valley with nine bends while it ascended into the sky.
Yongchu Valley, with gorgeous emerald water, is one of the most popular summer vacation spots in Gyeonggi Province.
Nearby attractions: Ahobmajigi Village, Daewonsa Temple, Cheongpyeong The Spoland, Gapyeong Woodcraft Agricultural Cooperative, etc.
Address: 508-7, Yongchu-ro, Gapyeong-eup, Gapyeong-gun, Gyeonggi Province
Yangju Songchu Valley
Songchu Valley is part of Bukhansan Mountain National Park and stretches roughly 4km along the foot of Obongsan Mountain, which is a runoff of Dobongsan Mountain.
You'll be able to see plenty of pine and wild walnut trees along both sides of the valley. You can also enjoy the magnificent view created by clear water flowing downstream over a three-tiered waterfall.
Nearby attractions: Dobongsan Mountain, Mangwolsa Temple, Songam Space Center, Jangheung Natural Arboretum etc.
Address: Uldae-ri, Janghueng-myeon, Yangju-si, Gyeonggi Province
Gapyeong Eobi Valley
Eobi Valley, which converges with Yumyeongsan Mountain Valley at Eobigyo Bridge and flows through Sagimakcheon River to reach Namhangang River, begins as it passes by a signboard that says Eobisan Mountain, Eobi Valley.
It features rest stops and pools near pension houses, which makes Eobi Valley a truly great place to enjoy your summer vacation in a variety of ways.
Nearby attractions: Yumyeongsan Mountain, Byeolmyo, Ananti Club, Chorongi Nest Village, Monument for Yongmunsan Battle, etc.
Address: 164, Gail-ri, Seorak-myeon, Gapyeong-gun, Gyeonggi Province
Anyang Sammaksa Valley
Only ten minutes away by bus from Gwanak Station, Sammaksa Valley is close to the city. Although not well endowed with water, the valley is a good place to take a short break.
The valley waterway is shallow so children can enjoy the water safely, and you can camp in front of the valley as well.
Nearby attractions: Anyang Art Park, Sammaksa Temple, Anyang English Village etc.
Address: San 15-1, Seoksu-dong, Manan-gu, Anyang-si, Gyeonggi Province
Yangpyeong Seoksan Valley
Yangpyeong Seoksan Valley is a place from which to view Sorisan Mountain and heal yourself! You can also enjoy the fascinating cliffs all over the valley.
At Seoksan Valley, you can take in the evergreen pine trees sitting between the cliffs and have some fun in the water.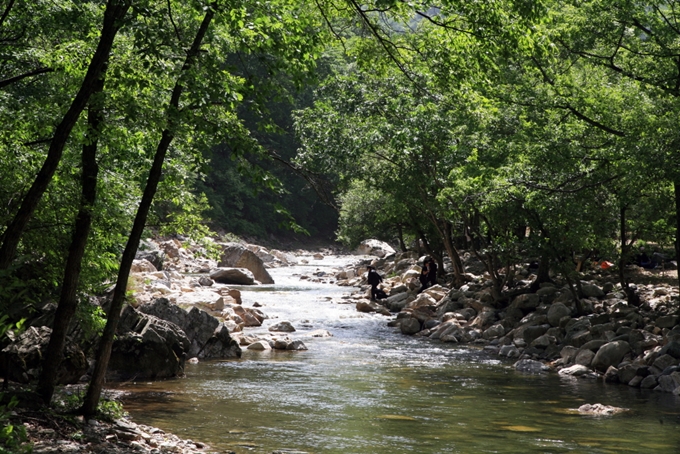 Nearby attractions: Sorisan Mountain etc.
Address: Seoksan-ri, Danwol-myeon, Yangpyeong-gun, Gyeonggi Province
These valleys across Gyeonggi Province are open 24/7 and are free. Since numerous people visit them, keeping them in good shape is very important! Don't forget to clean up after you've had fun in the water!
Waterfalls in Gyeonggi Province that help you forget about the heat… Where are they?
Yeoncheon Jaein Waterfall
Jaein Waterfall is located where Bogaesan Mountain and Hantangang River come together! It attracts many visitors thanks to its outstanding scenery.
The waterfall looks like it just came out of a movie or TV drama series; it helps you completely forget about the heat!
Nearby attractions: Royal housings from the Joseon Dynasty, etc.
Address: 21, Gomun-ri, Yeoncheon-eup, Yeoncheon-gun, Gyeonggi Province
Paju Ungye Waterfall
Located in Gamaksan Mountain, one of five difficult mountains in Gyeonggi Province, Ungye Waterfall (Biryong Waterfall) is 20m in height and offers some great views along with the beautiful terrain nearby.
Ungye Waterfall exudes different atmospheres depending on the volume of water, so you can see a different side of the waterfall each and every time you visit.
Nearby attractions: Beomryunsa Temple, Sanmeoru Farm, Gamaksan Mountain, etc.
Address: Seolma-ri, Jeokseong-myeon, Paju-si, Gyeonggi Province
Yangpyeong Jungwon Waterfall
Jungwon Waterfall is located on Jungwonsan Mountain, which stands east of Yongmunsan Mountain. Compared to other waterfalls, Jungwon Waterfall is quite modest in size; however, it's truly beautiful when you take it in with the surrounding landscape.
If you walk along the valley trail for 15 minutes from the Jungwon Valley parking lot, you'll come across the three-tiered Jungwon Waterfall making a deafening sound. There's another waterfall called Chima Waterfall nearby, so don't forget to take a look.
Nearby attractions: National Jungmisan Mountain Recreational Forest, Yumyeongsan Mountain, Yongmunsan Mountain, Yongmunsan Mountain Recreational Forest, etc.
Address: Yeonsu-ri, Yongmun-myeon, Yangpyeong-gun, Gyeonggi Province
Yeoncheon Bidulginang Waterfall
As one of eight scenes of Hantangang River, Bidulginang boasts a vista beautiful enough to be used as the backdrop for several TV dramas and movies.
After it rains and when there's more water flowing, you'll be able to see the beautiful waterfall. But it's still a pretty place even if the water isn't flowing.
Nearby attractions: Hantangang River Daegyocheon Basalt Valley, Hwajeokyeon, etc.
Address: 451, Daehoesan-ri, Yeongbuk-myeon, Pocheon-si, Gyeonggi Province
Apart from these waterfalls, Gyeonggi Province is home to several other artificial waterfalls such as the Namyangju Piano Waterfall, Gunpo Royal Azaleas Hill Artificial Waterfall, Ansan Nojoekbong Waterfall and more, so please visit them when you can.
Source: Gyeonggi Province Blog
Gyeonggi Tourism Organization Web Portal
Valleys in Gyeonggi Province with plenty of character! Enjoy your summer with these cool valleys and waterfalls.